Grandma in Her Chair
<![if !supportEmptyParas]> <![endif]>
This is the only picture if have of the inside of the Waller home place. This picture was taken in the 'family room'; what is now the living room. The room was used as a sitting room and bedroom by my grandparents. The other downstairs room was reserved as a 'formal' living room and never used except for special occasions, and by us grandchildren.
<![if !supportEmptyParas]> <![endif]>
There is a fireplace now where the window is in this picture. A gun cabinet sits where the stairwell leading up to the girls' bedroom is seen in the picture. There was a corresponding stairwell leading to the boy's bedroom in the living room. The main chimney was in the center of the house opposite where grandma is sitting and had hearths in the two downstairs rooms and the two upstairs rooms. To the right in the picture were doors leading to the dining/kitchen area and the living room. The two stairwells have been replaced with one stairs in the center of the house where the chimney was. Dad used the chimney stones to build an outside fireplace.
<![if !supportEmptyParas]> <![endif]>
<![if !vml]>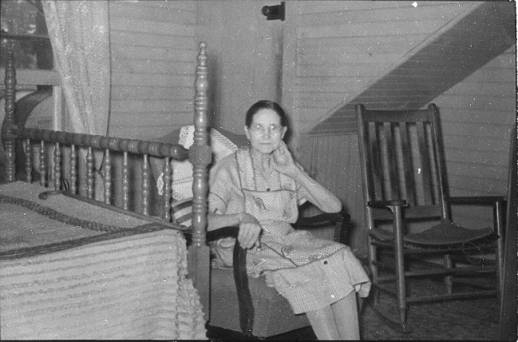 <![endif]>
Author
Notice grandma's cane lying on the end of the bed. Grandpa's chair was beside the head of the bed; beside it sat a tin of sawdust as a spittoon.
<![if !supportEmptyParas]> <![endif]>