A LANE SERVICEMAN
A box of Lane family pictures belonged to Lottie Lane Moore and came to me from her son's wife, Linda Moore. They are mostly unidentified.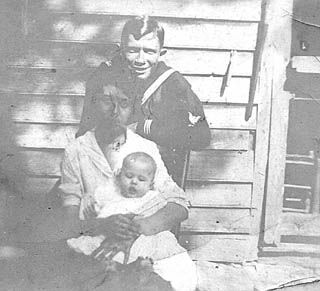 The descendants of Eliza Jane Stevens, wife of Jennings Thornton Lane, can be identified by her hair which was thick and jet black. This navy man could be her grandson, maybe a cousin or second cousin of Lottie and my mother. He proudly displays his wife and child and the Navy patch on his arm.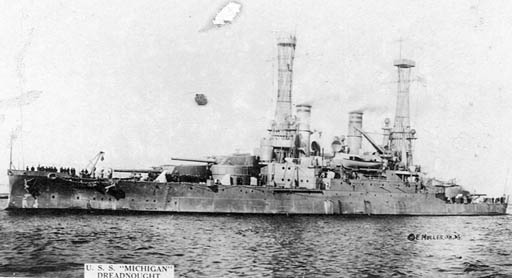 These pictures of US Navy Big-Gun Battleships (Dreadnaughts) came to me with the picture of the Navy serviceman above. So he may have served on one of the ships. The USS Michigan was laid down 1906 and carried eight of 12-inch guns.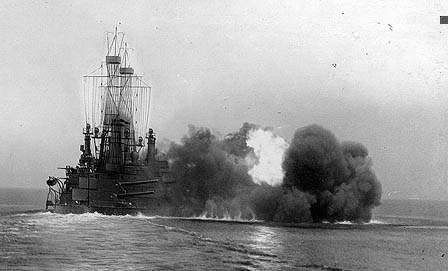 This is a Navy photo, an awesome display of naval might. The USS Michigan belches flame and smoke as she fires a broadside from her big guns. Salient features of US battleships of the period were the wire cage masts and superimposed turrets on the centerline of the ship. Eventually, all navies adopted the centerline turret arrangement, and the US navy abandoned the cage masts when it was found that they could not withstand heavy storms at sea.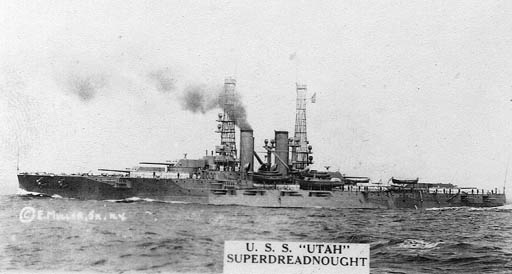 Construction of the USS Utah began in 1909. She carried ten of 12-inch guns in five turrets. In 1932 she was converted to a target ship. The USS Utah was sank during the Japanese attack on Pearl Harbor, December 7, 1941, as I was celebrating my fourth birthday.