FLORIDA PRODUCE
Neighbor Bob Cox returned from Florida today, Feb 11, 2005. He brought us some food items.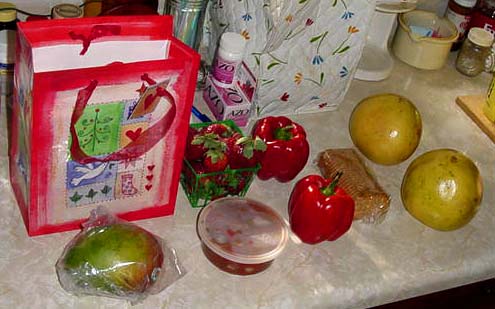 From right to left: a couple of grapefruit, a package of crackers , two red bell peppers, a pint of strawberries, a container of salsa, and a mango. Margaret will use a bell pepper when she cooks chili this weekend.
I guess that Bob prepared the salsa. I had never eaten salsa before, unless it was accidentally at a party or meeting. What Bob brought was good, so it appeared that the fruit was meant to make a salsa. I also had never looked at a recipe for salsa, so what I made was pure invention.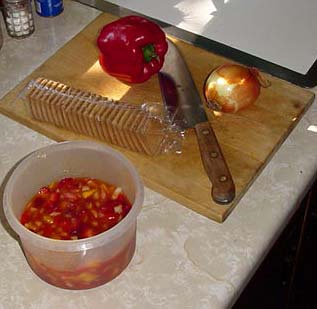 Sweet and hot salsa. Strawberries, mango, red bell pepper, onion, hot V8 juice, honey, and paprika. It is good with shortbread cookies.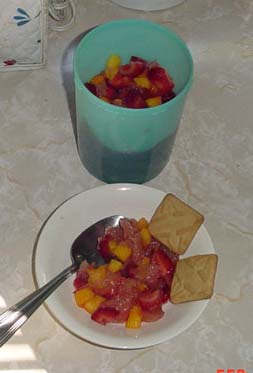 Sweet and sour salsa. Sugared strawberries, mango, grapefruit, and honey. It is also good with the shortbread, and might go well with French toast.
Here I am cooking French Toast. The dip was diet egg with sugar. The sweet and sour salsa was not sweet enough on the toast. Or maybe this salsa does not keep well.