Yum Yum Cake
Cathy Day, wife of my third cousin Buddy Day sent me this recipe. She got it from a neighbor.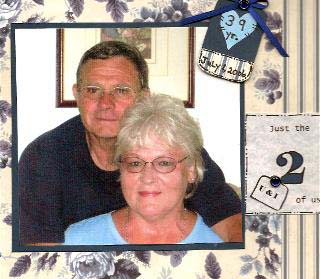 Bud and Cathy, anniversary picture.

Cathy in her kitchen.
Cathy also builds great web sites. Click on the link below. Then you can click on her 'Steppe' surname page.
http://martinancestry.homestead.com/home.html
This recipe was given to me by a neighbor. Buddy loved it. It is rich and good for a picnic with a large group. It stores well and can be cut up and frozen in small quantities to later thaw for deserts.
Yum-yum Cake

2 c. flour
2 tbs. baking soda
2 c. sugar
2 eggs
2 c. crushed pineapple (drained, 1 lg. can)
Sift flour and soda; add sugar eggs and pineapple. Beat well by hand. Pour into a large greased rectangle pan. Bake at 350 degrees 30 minutes. Meanwhile boil 1 c. sugar, 1 stick butter and 4 oz. Evaporated milk 2 min. Remove from heat and add 1 c. chopped pecans, 1 c. coconut and 1 tsp. Vanilla. When cake is done pour this over warm cake and leave to cool.