NORFOLK AND WESTERN J TYPE
These streamlined locomotives ran from Norfolk, Virginia to points west, pulling the premium passenger trains of the railroad.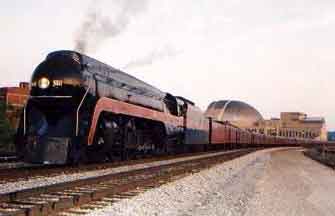 This N & W passenger train may be in Roanoke, Virginia. The coach livery matches that of the engine.
SOUND This is an excursion train coming into Lynchburg, Virginia. The locomotive has a full head of steam and the engineer has fun blowing the whistle for the rail enthusiasts.
SOUND The engine effortlessly starts the passenger train from a dead stop, and soon has it chuffing along at the normal pace.