James Stepp Home
<![if !supportEmptyParas]> <![endif]>
My aunt Mary Steppe Booth is 82 years old, now in year 2000. She remembers clearly things that happened years ago, maybe not totally accurately. She told me this story.
<![if !supportEmptyParas]> <![endif]>
When Maryís husband Owen Booth died in September 1955 Mary was visited by her aunts Maggie Steppe Jordan and Kate Steppe Francisco, sisters of her father Cleveland Steppe. The Owen Booth farm was located right across the road from the former farm of James Stepp. The visit caused Maggie and Kate to remember how they used to stay with their grandparents, James and Martha Stepp, in the old house when they were kids. They told Mary Booth about it during the visit.
<![if !supportEmptyParas]> <![endif]>
I have learned that the home was sold to T W Evans in 1881; long before Kate and Maggie were born. Maybe I didnít get Maryís story in my mind correctly.
<![if !supportEmptyParas]> <![endif]>
The James Stepp home is on Booth Road, the first house from Spring Mill Road. It is near Concord with Pilot Mountain visible from the front yard. Behind the house is a hill leading downward to Naked Creek where Steppe Hill is supposed to be.
<![if !supportEmptyParas]> <![endif]>
<![if !vml]>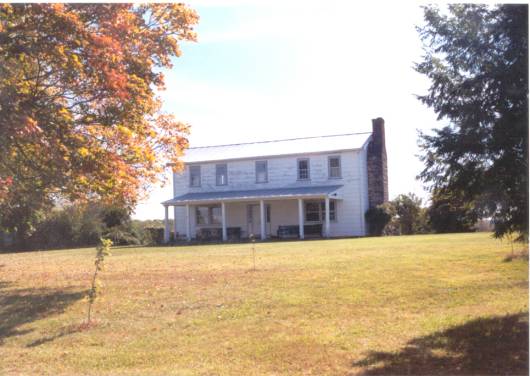 <![endif]>
Author
This photo shows that the old house still has its original fieldstone chimneys at each end. Each chimney has a lower and upper fireplace. Like so many other old houses, it was covered with asbestos shingles, probably about 1950. And it appears that the chimney tops have been repaired with brick.
<![if !supportEmptyParas]> <![endif]>