Photo of Ben Bailey's Ancestors
<![if !supportEmptyParas]> <![endif]>
Ben Bailey of Larned Kansas is my third cousin once removed. He paid to have much of the Bailey family research done. Ben has an old picture he got from his grandfather. He knows that one person in the picture is his great-grandfather Jesse H. Bailey Jr, a cousin of John Pleasant Bailey, my great-grandfather. The other men were never identified so Ben has been showing the picture to relatives here in Virginia when he comes and has had it published in the Brookneal newspaper to ask for help. A National Park Service person specializing in old clothing has placed the time of the picture at 1885. Ben works for NPS. The standing man on the left end is Jesse H. Bailey Jr. In 1885 he was 24 years old and the standing left man in the picture looks close to that age. If we assume that the men are relatives then the two older standing men on the right would have to be uncles. Now all of the Bailey uncles died in the war except German S. Bailey who was 66 years old in 1885. Neither standing older man on the right is that old. So they would have to be Bailey uncles through the wife of Jesse Bailey Sr who was Mary Hudson, or maybe descendants on the Daniel side of the family. The man standing on the left and the one seated on the left and maybe others have the Bailey head; shaped like a hexagon with big ears at two vertices (look at pictures of my father and other Bailey ancestors). Another point to consider is the placement of hands on shoulders, which would seem to say, "this is my son" or "this is my brother".
<![if !supportEmptyParas]> <![endif]>
<![if !vml]>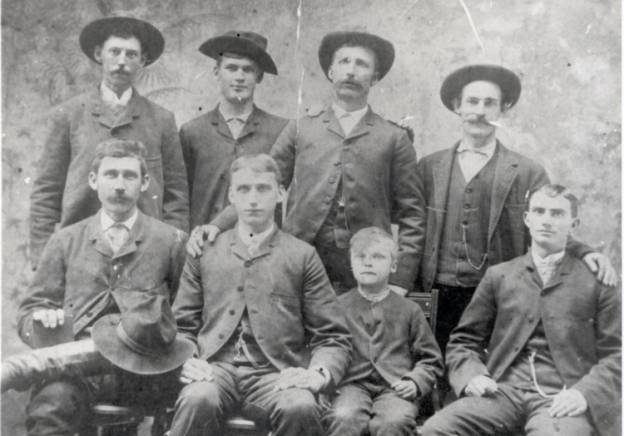 <![endif]>
Author from Ben Bailey
I now believe that the three sitting on the left are brothers John Pleasant Bailey, Zachariah Bailey, and Thomas Bailey. Since Zachariah died in 1877 the picture would have to be about 1875, ten years below the estimate based on the clothing. That is a reasonable variation.